June 16 • September 09, 2023
Ribambelle!
Opening on Thursday June 15 at 6pm.

Amélie Bigard, Beatrice Celli, Noël Dolla, Maxime Duveau, Alice Gauthier, Alice Guittard, Ibrahim Méïté Sikely, Arnaud Labelle-Rojoux, Thierry Lagalla, Camille Llobet, Talia Maidenberg, Eva Medin, Lucien Murat, Anna Tomaszewski, Lassana Sarre, Jean-Simon Raclot, Emmanuel Régent, Isabelle Rey, Omar Rodriguez Sanmartín, Jean-Philippe Roubaud, Karine Rougier, Quentin Spohn, Stéphane Steiner, Cédric Teisseire, Jean-Luc Verna, Eglé Vismanté
Espace à vendre is gearing up for summer with an exhibition of works from June to September 2023: Ribambelle!
A group show made up of "selected pieces", an original composite of works that will invade all the gallery's exhibition spaces.
Not limited to a single technique, Ribambelle! will feature ceramics by Beatrice Celli alongside new drawings by Emmanuel Régent. There will also be marble marquetry by Alice Guittard, a film experience by and with Camille Llobet, figurative paintings by Lassana Sarre, collages by Isabelle Rey and contemplative dioramas by Karine Rougier.
A rich and varied offering, offering viewers a fresh, polymorphous look at contemporary art in the making.
Visual: Stéphane Steiner, Untitled, acrylic on wood, 45 x 58 cm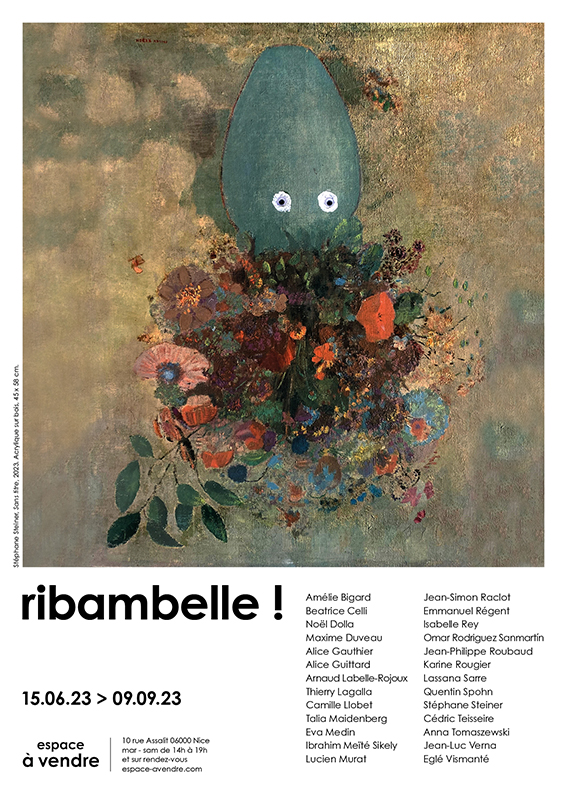 Affiche de l'exposition collective Ribambelle !, du 15 juin au 09 septembre 2023. 50 x 70 cm, tirage dos bleu. Conception graphique : Julie Hiet